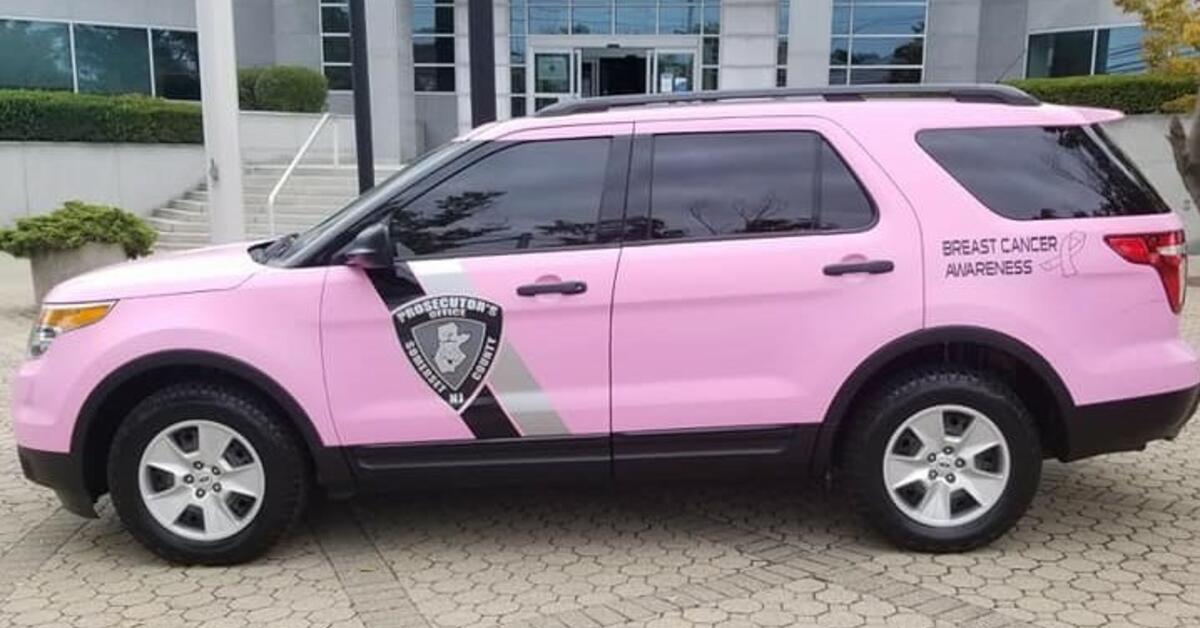 Somerset County
Somerset County officials and the Somerset County Police Chiefs Association announce that two police vehicles have been wrapped in pink along with two designated police vehicles with pink patches in support of Awareness Month breast cancer.
PNC Bank and the Far Hills Race Meeting Association funded the packaging of the "pink" police vehicles. These four vehicles will be used for community engagement throughout Somerset County in October.
Law enforcement agencies participating in this awareness campaign are the Somerset County Attorney's Office, Far Hills Police Department, Branchburg Township Police Department and Warren Township Police Department.
"Breast cancer does not recognize racial, socio-economic or jurisdictional boundaries. About 1 in 8 women will be affected by breast cancer in her lifetime," said prosecutor Robertson.
"Early detection is a key factor in providing more treatment options and increasing survivability. Law enforcement is in a unique position to help raise awareness of this horrific disease. This campaign is proof that our officers are deeply dedicated to the communities they serve.
A presentation ceremony for the "pink" police vehicles will be held on Friday October 1 at 10:00 am outside the historic Somerset County Courthouse in Somerville. All four vehicles will be displayed.
The vehicles will be available in their respective jurisdictions for the public to sign and take photos with.
Members of the four participating law enforcement agencies, Somerset County Commissioners Council, respective members of the municipal committee, Far Hills race meeting organizers, representatives from Robert Wood Johnson University Hospital Somerset and state officials attend Friday's 'pink' police vehicle event. officials.
If you are attending the outdoor event, it should be noted that all participants must adhere to social distancing and health and safety protocols.
Photo from Somerset County Prosecutor's Office Facebook page